---
---
According to The Idle Cat dot com, dry cat food is a common choice for cat owners due to it being cheaper, easier to store, and slower to perish out in the open when compared to wet cat foods; but you already know that! We're on hand to walk you through the best dry cat foods available today for providing your cat with all the nutrition they require.
Even the healthiest of dry foods require that extra thought is given to hydration, but there's no denying that they're perfect for using alongside wet food or healthy water sources. Many owners have concerns over nutrition when it comes to choosing dry cat food over wet but by making sure you purchase food from a respected brand, you can rest assured that it is nutritionally complete. We recommend..
Our Favorite Dry Food
Blue Buffalo Wilderness Indoor Dry Cat Food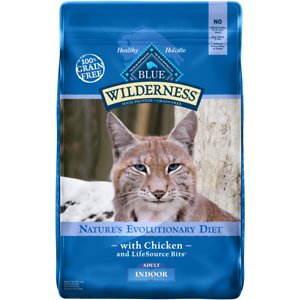 Buy Now
Though calorie content differs significantly in the products listed above, the feeding portions usually account for this. High protein cat food is typically higher in calories, and as a result, is fed in smaller portions.
Best Dry Food For Cats
We'll talk in detail about what to look for in your quest to find the best dry cat food in general later on. Going into this next section though, just keep in mind that the highest valued macronutrient for felines is protein. They survive off a diet that consists almost entirely of protein in the wild, so it should be reflected in their meals at home. This is what separates the average options from the very best dry cat foods available.
Remember that cat foods have different caloric densities and should be fed in portions appropriate to your cat's weight. With that said, here is a list of the best dry cat food, each with a high protein content to promote good health.
BLUE Wilderness Indoor Chicken Dry Cat Food
Delicious, grain free and packed full of protein. Blue Wilderness have produced an absolute stand out contender for the best dry cat food ever.
BLUE's dry cat foods are "cold-formed", a process that avoids excess heat to ensure the ingredients don't lose their nutritional value. Much like what happens if you cook vegetables on a high heat – they lose some of the heat-sensitive nutrients.
The TRUE BLUE promise gives you peace of mind that the protein comes from natural, real chicken instead of any nasty by-product. It also promises that their foods contain no artificial flavoring or colors, and no grain, wheat or soy!
It's ingredients clearly list the sources of all proteins, fats and amino acids which gives you peace of mind that they're coming from natural sources. Best of all, it's totally grain free.
GRAIN FREE: You can read below to find out why this is important, but the gist of it is that cat's don't need to eat any grain based foods and it can be detrimental to health in some cases.
Supposedly inspired by the diet of the lynx, this tasty cat food really is the perfect blend of high quality, tasty ingredients and health benefits, making it the best there is. Blue Buffalo Wilderness Indoor Chicken review.
Hills Science Diet Indoor Dry Cat Food
Hill's Science Diet Dry Cat Food is designed specifically for indoor cats, but our outdoor cats love it too!
It's precisely balanced nutrition is the result of the work of more than 220 veterinarians, scientists and pet nutritionists. Super high quality ingredients mean that you can be sure there are no artificial flavors or preservatives and that only the best sources of protein are used.
We noticed a big improvement in the softness of our cat's coat when switching to Hill's Science Diet, and we've seen talk around the web that suggests we aren't alone in making that discovery.
Price wise, it's incredible value for money when you consider it provides an equal (if not greater) amount of health benefits when compared to even the most expensive brands.
Lean proteins help maintain muscle in indoor cats and keep them at an ideal weight. It's also available in multiple formulas, each tailored to the needs of cats of all ages (yes, they make some of the best kitten food!).
We can't recommend this food highly enough, despite it's indoor cat label, it's perfectly suitable for both indoor and outdoor cats. Hill's Science Diet Adult Indoor Dry review.
Purina ONE Urinary Tract Health Formula Dry Food
Purina's ONE Dry Cat Food is designed to promote good urinary tract health. It manages this by reducing urinary pH levels and providing a low magnesium content.
Suited for adult cats, it contains healthy omega-6 fatty acids that boost the sheen of your cat's coat and aids in keeping skin healthy.
Purina are a well known respected brand, and you can be assured that all of the contents are of the highest quality. Real poultry or fish is used which provides the best natural sources of protein.
They promise a "0% filler" food, meaning that each and every ingredient found in this dry food has a purpose.
It's available in a variety of other formulas designed at other health needs, from hairball prevention to sensitive digestion systems.
Purina's special health formulas are fantastic, but shouldn't be used as a cure for any illness in the same way a prescription food would be used. Speak to your vet first if you have any health concerns.
You can find more by clicking through to view the product details above.
Rachael Ray Nutrish Natural Dry Cat Food
Packed full of natural prebiotics that aid in cat digestion, this food from Rachael Ray is the perfect option for those owners who are looking for the best natural dry cat food.
Available in both salmon and brown rice or chicken and brown rice, this natural food is a very good value choice for adult cats. Both flavors contain real meat and no artificial flavors or preservatives.
It's a really easy brand to get behind, not only because of the "all natural" mentality, but also because a portion of proceeds from sales go to the Rachael Ray Foundation, which at the time of writing has donated a staggering $21 million to various pet charities. Good on you Rachael!
It comes in bags of 3, 6 and 14 pounds so there are plenty of buying options regardless of how many kitties you're caring for.
Click through using the button above to see just how many customers consider this to be one of the best dry cat foods around, you'll be astounded.
Read the full review of Rachael Ray Nutrish Natural
Purina Cat Chow Naturals Indoor Dry Cat Food
At the time of writing this review, Purina's Cat Chow Naturals is the best selling dry cat food around. It's no surprise to us.
It contains plenty of natural fiber that helps to control hairballs by moving hair through your cat's system. It has absolutely no artificial flavors or preservatives and is made from real meats that are clearly listed in it's ingredients.
The 358 kcal/cup is also very modest, with the right portion control it could definitely be a viable weight control food for your cat. Because of the low caloric density, your cat will feel more full after consuming less calories.
As with most of Purina's products, it comes in a variety of flavors and formulas each designed for cats of different age ranges and weights.
Cats absolutely love it, but it loses half a star for two reasons. Firstly, it contains some grain based ingredients, which is not ideal and isn't something that's present in the 5 star dry cat foods reviewed above.
Secondly, the "chicken by-product meal" is made up for parts of a chicken that can't be sold for human consumption. While this is a slight drop in quality from the other foods, Purina are a well respected brand that wouldn't risk your cat's health with anything other than safe meat, and your cat definitely won't mind.
We had more to say about this food here
Blue Freedom Grain-Free Adult Dry Food
Free from grains and gluten based foods, this dry food from BLUE is perfect for those looking for the best holistic cat food.
It's widely reviewed as having qualities that provide a drastic improvement in fur and coat health. Not only will it make your kitty all soft and silky in a matter of days it will also help maintain a healthy weight.
The gentle and digestion friendly ingredients mean it's a great food for cats with sensitive digestive systems. Certain breeds, such as the sphynx for example, have notoriously sensitive tummies. This would be our pick for those breeds.
Remember that as always, no cat food can provide the full health benefits unless portions are managed properly. That responsibility is yours, not your cats!
What To Look For In Dry Cat Food
Many low quality dry cat foods contain fillers, artificial preservatives and other nasty stuff that are not a part of your cat's natural diet. These usually manifest themselves in the forms of grains and wheat based ingredients. To ensure you're getting the best nutritional value for your cat when buying a kibble based food, look for the following:
Specific Protein Source In Ingredients
With so many cat food brands offering and advertising high protein formulas, you need to make sure they're being clear about where that protein comes from.
Simply saying that it's sourced from "meat" is not sufficient, it's best to look for products that explicitly list the source such as salmon, lamb, chicken.
Bonus points for those brands that list even more specific organs, liver for example.
By-product meats are generally of a poorer quality than regular meat sources. They aren't bad, even some of the best and most respected food brands use by-product meats to bump up protein content, they just add a layer that makes the meat sources hard to trace.
Specific Fat Source In Ingredients
As with above, a named fat source gives you peace of mind that these important nutrients don't come from an artificial source.
If you're looking for a cat food for older cats, you should keep fat levels to a minimum as they are usually less active and can struggle with digestion.
Taurine
Cat food that contains taurine adds an extra level of benefit to your cat's diet. Studies suggest that adequate amounts of taurine in a cat's diet give the best chance of avoiding eyesight degeneration and heart disease. It's been commonplace in cat food for a number of years, so there's nothing to worry about despite the chemical sounding name.
Low or No Carbohydrates
Dry cat food is especially susceptible to being packed with "filler" ingredients that are often made up of wheat or corn. These act to keep the dry food glued together, but grains are not a natural part of a cat's diet.
Your best bet is to aim for natural dry cat food that labels itself as grain free.
This ensures the carbohydrate levels in the food are low and you get more healthy protein for your money, everyone's a winner.
Is Dry Cat Food Better Than Wet?
There's no right or wrong answer for this, and it's common for people to have strong opinions on the matter without much to back it up.
To be frank, both premium wet and dry foods for cats are nutritionally very similar. By premium, we mean any foods manufactured by brands that have earned excellent reputations over many years.
The biggest difference (and biggest arguing point) is that the dry options obviously do not provide the same amount of moisture content as their wet counterparts.
Purina suggest that a cat who eats solely dry cat food should drink roughly one cup of water per ten pounds of body weight in a 24 hour window. This is one of the reasons that it's becoming increasingly popular to either provide a combination of both wet and dry food, or to make use of a drinking fountain that ensures cats stay hydrated regardless of their food diet.
At the end of the day, it comes down to preference (of both yourself and your cat). You can definitely combine the two to get the best of both worlds and keep meal times exciting for your cat.
If having a soul means being able to feel love and loyalty and gratitude, then animals are better off than a lot of humans.